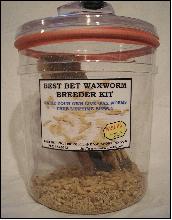 WHOLESALE WAX WORMS / BEE MOTHS, BEST BET WAXWORM & MEALWORM BREEDER KITS
FREE LIFETIME SUPPLY OF WAX WORMS & MEALWORMS
Never buy wax worms again. Our Waxworm Breeder Kits are easy and fun to use. Sets up in ten minutes. Just put it some place at room temperature 65 to 80 degrees. In six to eight weeks you will have hundreds or thousands (you decide how many you want) of new wax worms. Best of all the kits are reusable and we supply you with free live wax worms to get you started. When you want more wax worms just set it back up add some wax worms from your last batch that you raised and in six to eight weeks you will have a new batch of wax worms.

BUY IT NOW
EACH WAXWORM KIT INCLUDES UP TO 100 FREE LIVE WAX WORMS
WHOLESALE BULK WAXWORMS ALSO AVAILABLE ALL YEAR LONG

USE WAX WORMS & MEALWORMS FOR FISHING, FEEDING REPTILES AMPHIBIANS AND INVERTEBRATES , ALL AQUARIUM FISH, EXOTIC ANIMALS LIKE SUGAR GLIDERS AND HEDGEHOGS ALSO GREAT FOR CAGED PET AND WILD BIRDS
HOW BEST BET WAXWORM BREEDER KITS WORK
Everything you need to raise your own wax worms is included in our Waxworm Breeder Kits. Special wax worm breeder container, breeding material block for egg deposits, container seal, our own special vitamin fortified wax worm food, detailed instructions and about 100 FREE LIVE WAX WORMS.

It only takes about ten minutes to set up your breeder kit. First, find a seven inch by seven inch place to put your Breeder Kit that is warm. 65 to 80 degrees, with the ideal temperature closer to 80 degrees is best as wax worms are more active and things will move along faster. Add half of the special wax worm breeder food to the bottom of the breeder container. Then add the free live wax worms. Put the breeding material block in, close the cover and set it in a warm place. That's all there is to it. It makes you wonder why anyone would buy wax worms when it is so easy to raise your own with our Waxworm Breeder Kits.

Once the wax worms turn into pupas/cocoons they will emerge after about two weeks as moths. The moths will live for about ten days during which time they will be mating and depositing their eggs in the breeding material block. Each female moth will lay up to one thousand eggs. After about two weeks the eggs will hatch and eat the breeder food they will grow fast. After they have grown to full size remove them from the breeder container and store in a cool place.

To start the process all over again just add more wax worms from the last batch you raised to the breeder container. You will never have to buy wax worms again!


BUY IT NOW
Click Here To See What Our Customers Have To Say About Our Wax Worm & Mealworm Products. Questions From Our Customers And Tips And Tricks On Using Our Waxworms And Mealworms Products.
CUSTOMER TESTIMONIALS, FAQ, TIPS AND TRICKS
ANOTHER NEW PRODUCT BY US LIVE COLORED WAXWORMS
LIVE COLORED WAX WORMS
We offer 7 vibrant blazing colors Red, Green, Pink, Orange, Blue, Chartreuse and Purple.
LIVE COLORED WAX WORM INFORMATION CLICK HERE
SEE ALL OUR PRODUCTS BY CLICKING HERE
NOW NEW LARGER SIZE
Home | Wax Worm Info. | Products | Order | Email Us | About Us | Wholesale & Retail Bait Shops Call Us For Pricing 218 246-2222 |
©1997 - 2022 Best Bet Inc. All Rights Reserved.